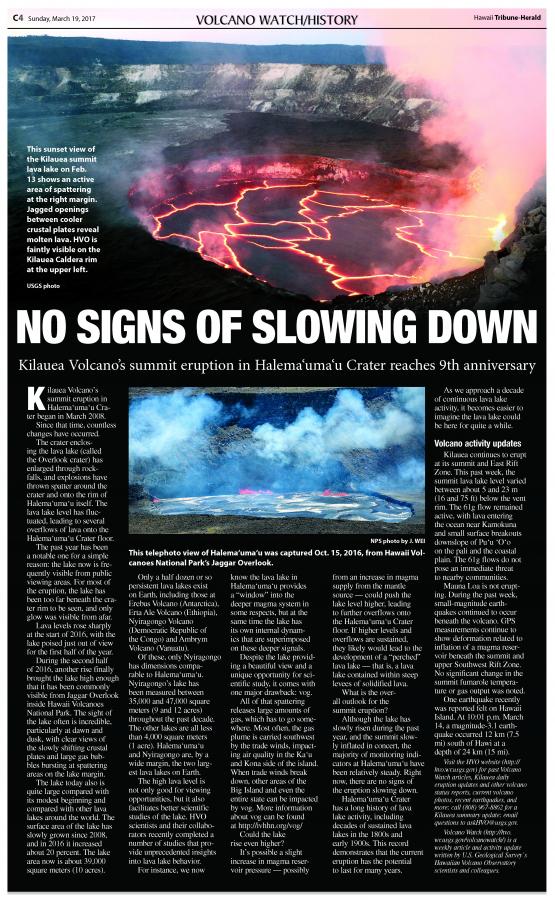 Volcano Watch is a weekly feature of the Hawaii-Tribune Herald newspaper. This article, "No Signs of Slowing Down", features the summit eruption's 9th anniversary. (http://www.hawaiitribune-herald.com/2017/03/19/hawaii-news/)
Maccaughey, Vaughan, Vegetation of Hawaiian Lava Flows.

*

Botanical Gazette, v. 64, no. 5 (1917): pp. 386-420
Stearns, Harold T. The Keaiwa or 1823 Lava Flow from Kilauea Volcano, Hawaii.

*

Journal of Geology, v. 34, no. 4 (1926): pp. 336–351
TL Wright and TJ Takahashi, Hawaii bibliographic database.

*

Bulletin of volcanology, v. 59 no. 4 (February 1998): pp 276–28.
Abstract: The Hawaii bibliographic database has been created to contain all of the literature, from 1779 to the present, pertinent to the volcanological history of the Hawaiian-Emperor volcanic chain.
Kauahikaua, J.P., and Babb, J.L., comps. and eds., Conversing with Pelehonuamea—A workshop combining 1,000+ years of traditional Hawaiian knowledge with 200 years of scientific thought on Kīlauea volcanism (ver. 1.1, June 2017): U.S. Geological Survey Open File Report 2017–1043, 169 p., https://doi.org/10.3133/ofr20171043.
Content Note: These proceedings are transcripts of oral presentations illustrated with PowerPoint presentations or charts.
Michaud, Jon-Pierre, et al. Emergency Department Visits and "Vog"-Related Air Quality in Hilo, Hawai'i.

*

Environmental Research, v. 95, no. 1 (May 2004): p. 11
* = available in LHL print collection only